Contact us
Marie Noëlle et François VERRIER
Gîte des Sages,
1278 Route de Taninges
74340 SAMOENS,
Haute Savoie, France
Tel.: +33 (0)954 28 99 55
Port.: +33 (0)6 78 36 37 81
E-mail: verrier.francois@free.fr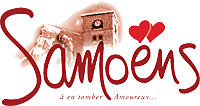 Booking Calendar 2011/2012 of the Barn
Practical Informations
Tourist board: +33 (0)4 50 34 40 28
Lift office : +33 (0)4 50 90 40 00
Ski school : +33 (0)4 50 34 43 12
Child care : +33 (0)4 50 34 13 00
Medical center : +33 (0)4 50 34 41 88
Divers
Pets allowed.
languages spoken: fr, gb, ger
GPS Coordinates
Longitude : 06° 42' 25" E
Latitude : 46° 05' 07" N
At arrival
Deposit 500.00 €
Linen rental : 15.00 € par pers.
At departure :
Stay tax : 0,75€ / per day / pers
If housecleaning : 90.00 €
Gîtes de France
Tel.: + 33 (0) 450 101 011 (gîte N° 258020)

LA GRANGE / THE BARN
80m2 renovated barn with 3 bedrooms and mezzanine
Suitable for 6 PEOPLE (7 persons in agreement with the owner)
Traditionally renovated. On the ground floor, 2 living areas, separated by a level, very luminous (18 windows), allows the alliance of modernity and comfort. All here is functional, The wooden interior gives a very clear and warm feel to maintenance free chalet .
The amenities
living room, dining nook and American style kitchen (microwave, gas range, electric oven, dishwasher) First floor: bathroom with bath, wc and 3 bedrooms, one with bunks and another with a mezzanine. A cellar with washing machine and storage area. Garden with ping-pong, badminton and barbecue. Animals are welcome. Rent for linen: 15€ per person : Advantages: same than for the farm.
Advantages
The farm is situated on the plain of Samoëns, south facing with a 1200m2 garden with trees. Also ping-pong table, badminton and barbecue area. Behind the garden is a large, sloping field that people can use in Winter for skiing, tobogganing, bobsledding, building igloos and snowball fights if you will.
Less than 1 km from the farm you will have access to the Grand Massif express, to the bottom tracks, to the marked itineraries for racketing, to mountain bike tracks and other walks, to the playground, to the centre of Samoëns, to the supermarket, to the "Giffre" river for fishing or to the lake aux Dames, to the swimming pool, to the paragliding, to the canyoning, rafting, hydro speed, canoeing etc.
Extract from "journal du bois"(no 50),jan-feb 99 :
'' Epiceas and beeches were used for the body of the structure, framework, vertical beams, floors, supporting beams… We used epicea as the barn was originally built into this wood. Inside, the panelling of all the rooms are in pines of the north. Like a high central column, the beech stairway that takes you to the rooms is also very well lit up by a long and narrow vertical opening. On the ground floor, the pivot of the stairway has built in shelves, very practical for books and ornaments''.
Prices of the housing
Heating, water and electricity included
from 22.12 to 29.12.2018
1 300 €
from 29.12.2018 to 05.01.2019
1 450 €
from 05.01 to 26.01.2019
750 €
from 26.01 to 09.02.2019
800 €
from 09.02 to 09.03.2019
1 450 €
from 09.03 to 06.04.2019
800 €
from 06.04 to 13.07.2019
750 €
from 13.07 to 24.08.2019
850 €
from 24.08 to 15.10.2019
750 €
30 % at the signature of the rental agreement